Forsan ISD Provides FREE Breakfast & Lunch to all enrolled students as part of the National School Lunch Program under the SSO program.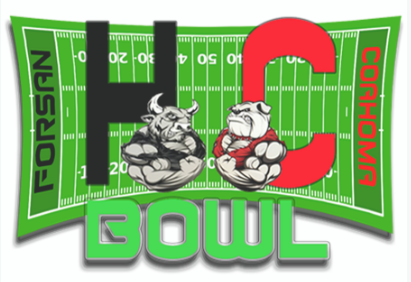 Forsan Booster Club Golf Tournament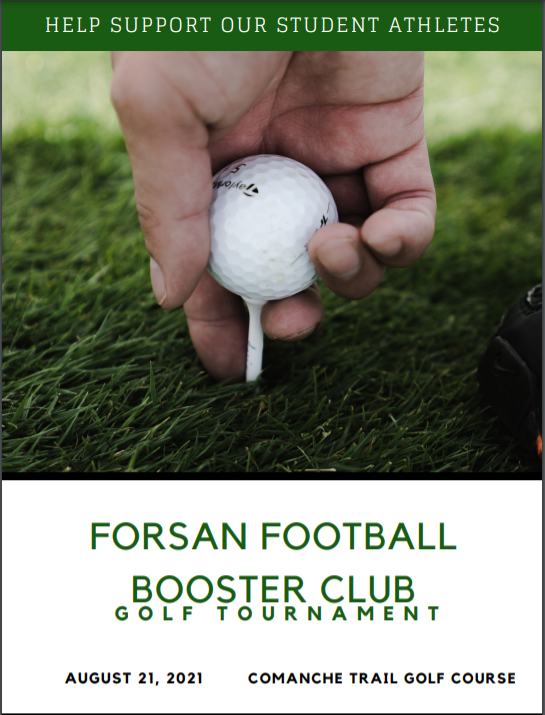 Reminder: Drumline Camp is starting this Monday! They will be meeting from 8:00am-12:00pm Monday-Wednesday in the band hall. Mallets, pit and cymbals are also required to come!'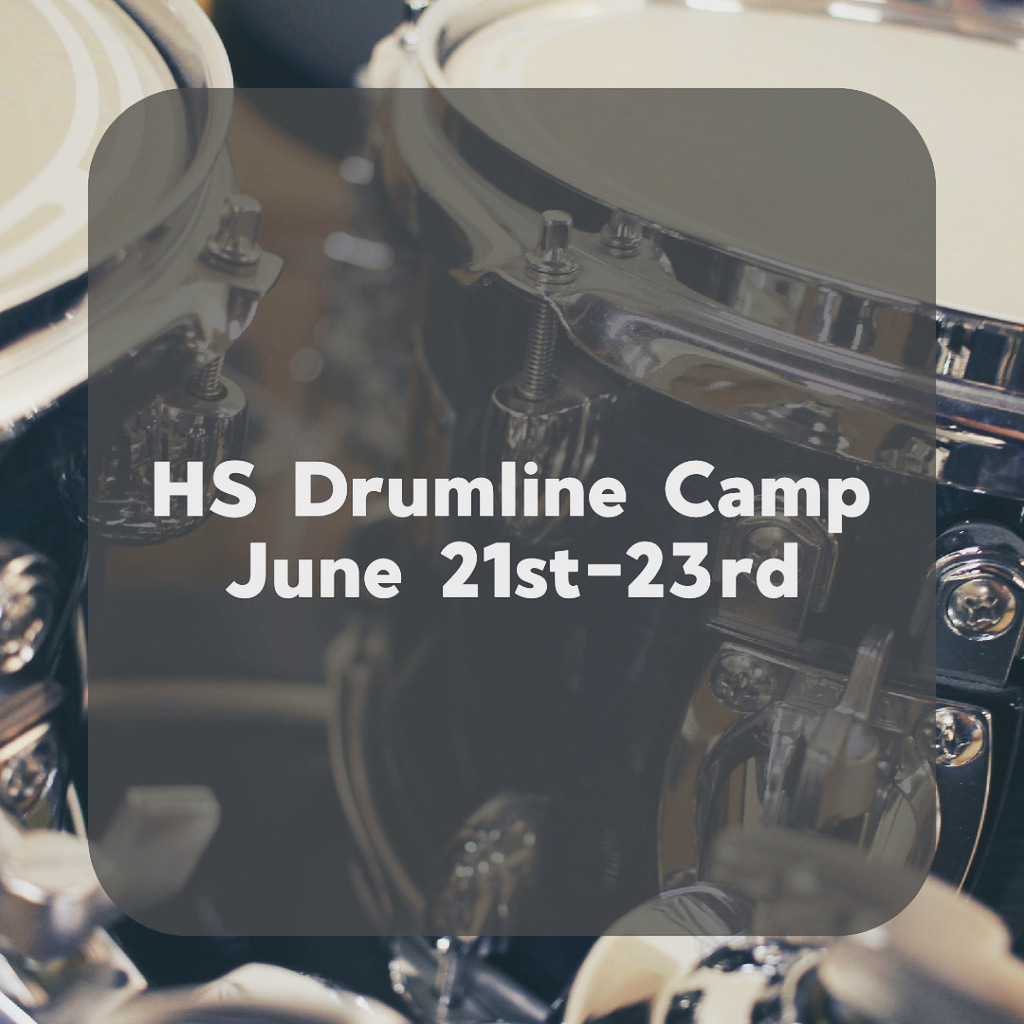 Lady Buffs Regional semi-final game 1 against Stamford will be played at Abilene Wylie on Thursday May 20, 5:00 pm. Games 2 + 3 are set for Coahoma on Saturday @ 3:00 and 5:00 but may change.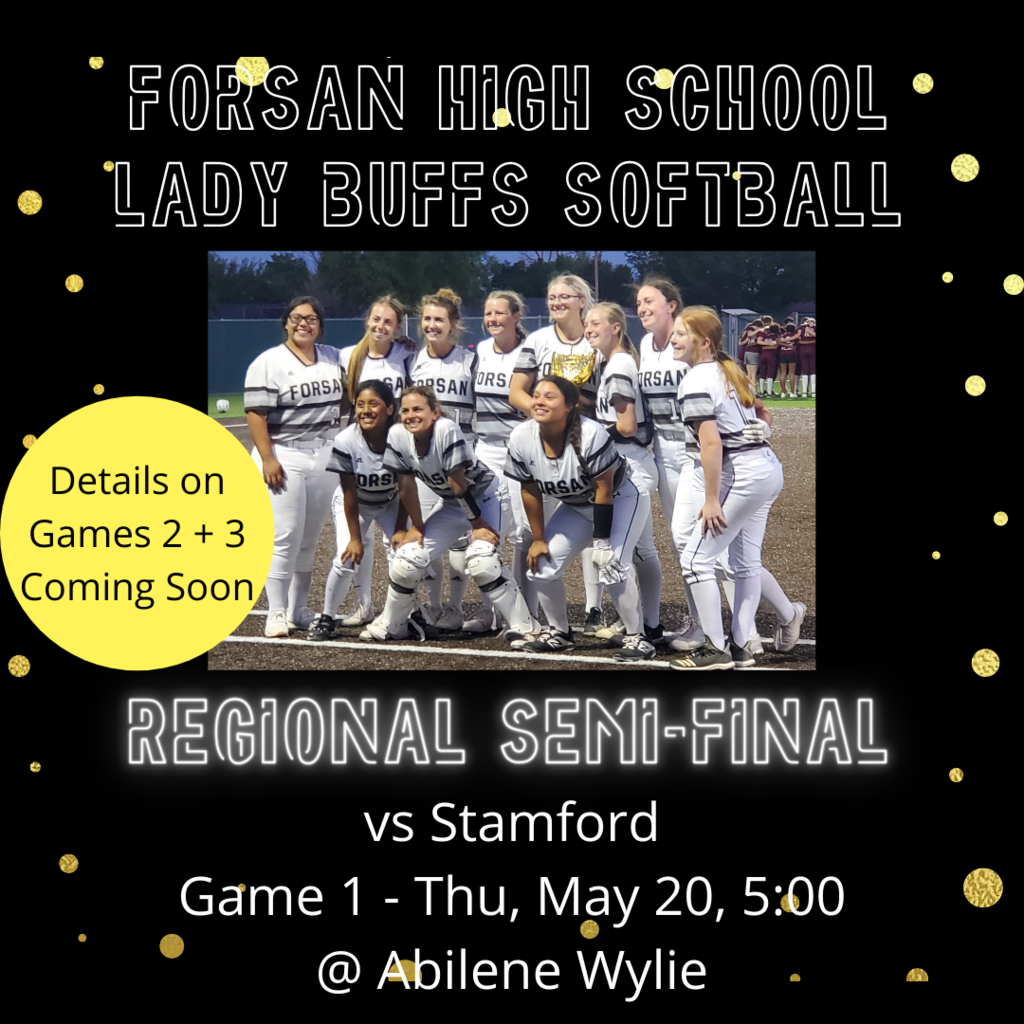 Forsan High School Basketball player Rylee Evans signs with McMurry University to play Basketball next year. Photos here:
https://flic.kr/s/aHsmVGnjFG


A Message from UnitedHealthcare Dental Texas Plan: UnitedHealthcare Dental is an option for children on CHIP or Medicaid plans. Our Mission is to Help People Lead Healthier Lives by Keeping Smiles Healthy!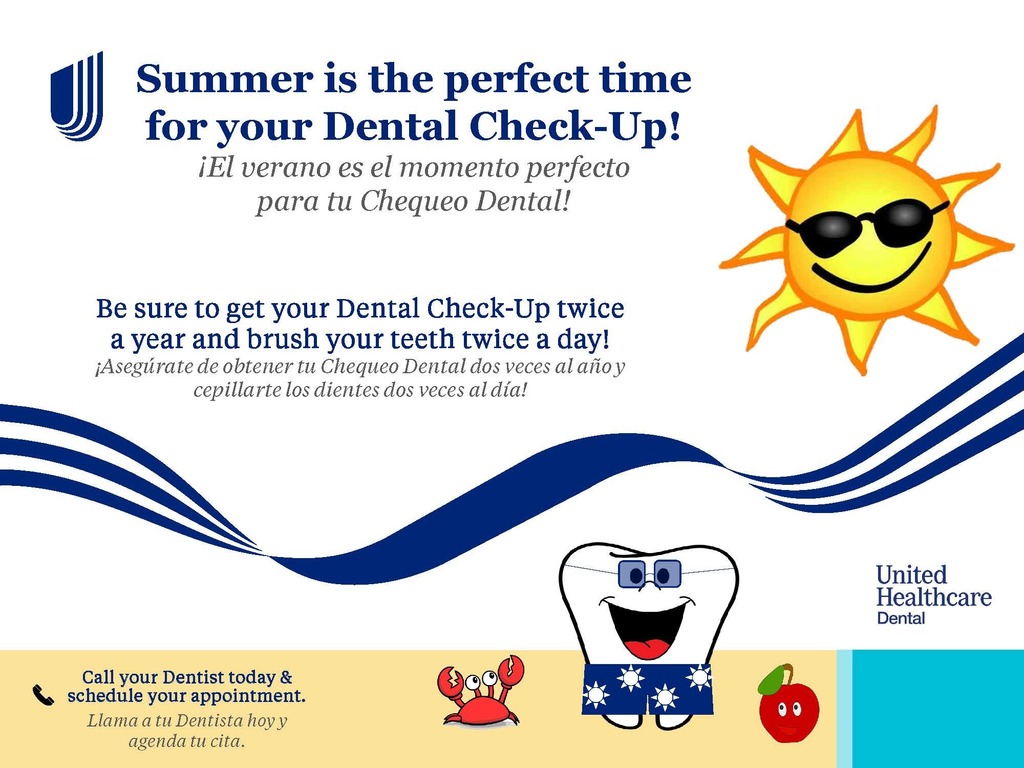 Forsan at Area Track Meet Congratulations to the following athletes who competed at the Area Track Meet and have qualified for the Regional Track Meet! Austin Magness- 3200m (11 minutes and 15 seconds) 1st place and 1600m (time: 5 minutes and 11 seconds) 3rd place Trevor Cole- Pole Vault (Cleared 11 ft 6 inches) 3rd place Cameron Allen - discus ( throw: 122 ft 5inches) 4th place Aleena Nelson- shot put (throw: 33ft 5.5inches) 1st place Thomas Gabehart- 800m (time: 2 minutes and 10 seconds) 2nd place Rylee Evans - 800m (time 2 minutes and 38.10 seconds) 4th place Carter Scott- 110m(time: 16.80 seconds) 3rd place and 300m hurdles (time: 42.52 seconds) 2nd place Nate Hernandez- 400m dash ( time: 53.47) 3rd place Dustin Spalla, Thomas Gabehart, Sawyer Stallings, and Nate Hernandez- 4x400 ( time: 3mintues and 41 seconds) 4th place Torah Smith, Natalie Franco, Nevaeh Hernandez, and Enjolina Hawkes- 4x100 (54.11 seconds) 4th place

UIL Academic Regional Meet is this Friday ! From the speech team, Caylee Myers competes in Informative Speaking and Austin Magness competes in LD Debate & Persuasive Speaking.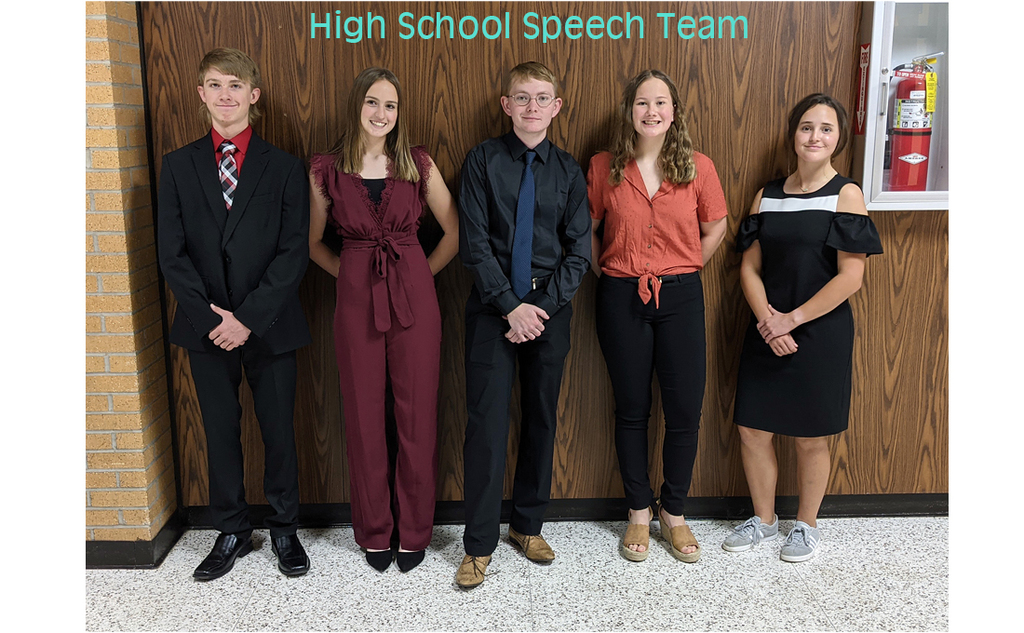 Regional Qualifiers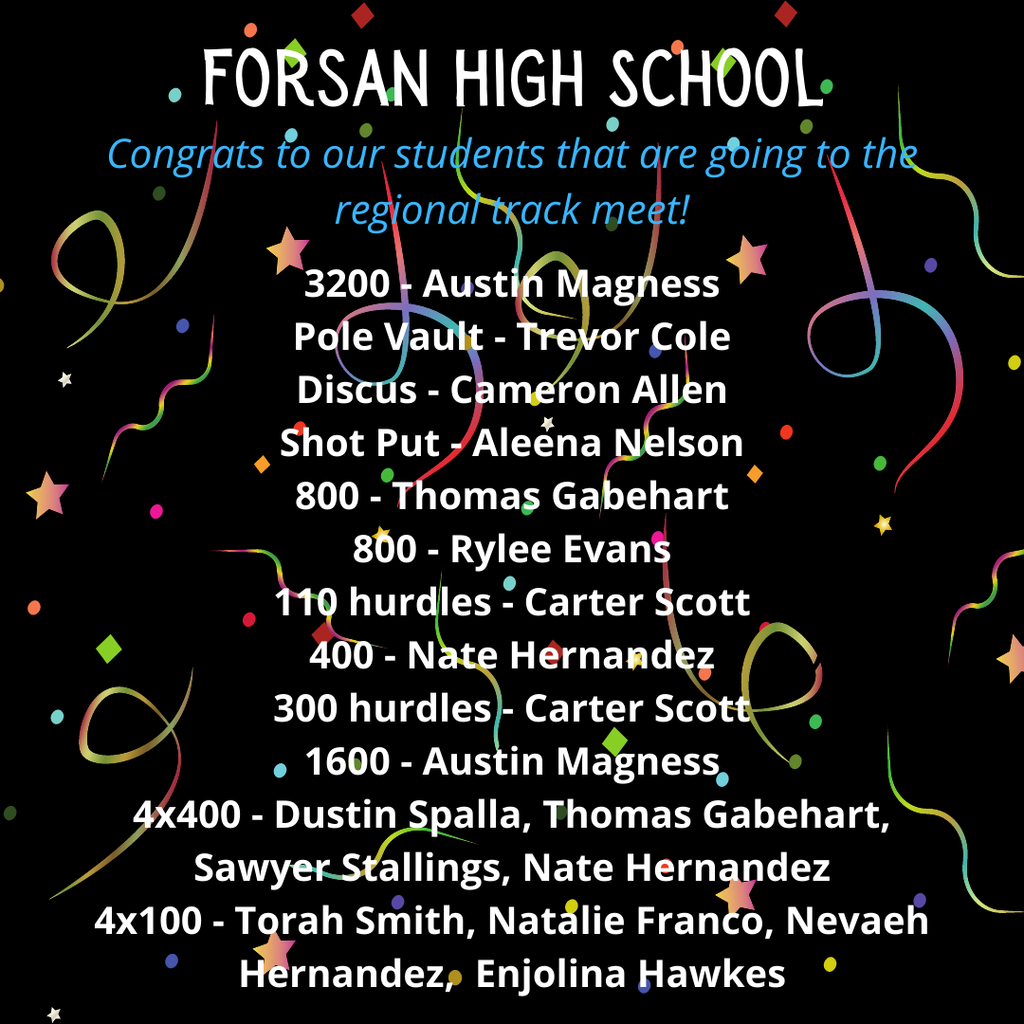 Forsan High School held its first induction ceremony for Quill and Scroll, known as the journalistic honor society for high school students Photos here ..
https://flic.kr/s/aHsmV77Jka

Forsan ISD PreK and Kindergarten registration - Monday March 29 - Thursday April 1st at the elementary campus 8:30am - 4pm. Evening until 7pm Tuesday & Thursday.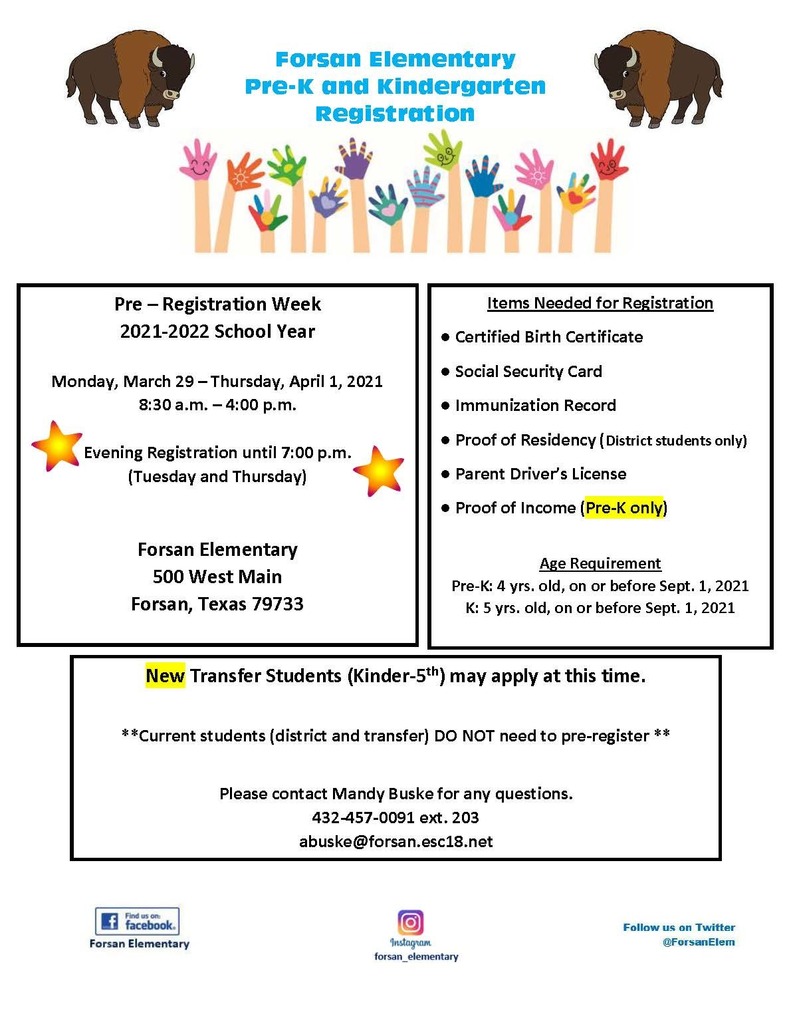 Forsan one act play will perform on Tuesday around 1:00pm at Rankin High School for the Bi-District round